Case Study
'RuPaul's Drag Race' on Twitter: Season 12 RuVeal
VH1's "RuPaul's Drag Race" has captured the hearts of fans since it sashayed onto screens in 2009, and in recent years has turned into a cultural phenomenon, taking the world and Twitter by storm. Challenges, transformations, and lip-syncs have dominated the #DragRace conversation on Twitter, with queens, judges, and RuPaul himself joining in to spill the tea with fans.

This year, ahead of season 12, VH1 wanted to harness the power of Twitter and leverage the fan conversation around the show by exclusively "RuVeal"ing the new cast on Twitter. A key moment in every season, the RuVeal gives fans the opportunity to get to know the queens they'll be rooting for, prior to the season premiere.

"The Cast RuVeal is among the most highly anticipated moments kicking off each 'Drag Race' season. Twitter was a perfect fit for this year's RuVeal given the political theme of season 12 and newsworthiness of the cast announcement," says Tyler Hissey, vice president, marketing and social media at VH1. "We utilized insights about what's worked for past RuVeal executions, landing on the eventual Twitter Live runway experience."

Here's a rundown on how the "RuPaul's Drag Race" season 12 RuVeal slayed on Twitter.
"Twitter is our go-to source for breaking news tied to the franchise," Hissey says. To create a newsworthy moment and kick off the conversation, VH1 used a Tweet-to-Unlock Card to encourage fans to use the show's hashtag and help get it trending. In addition to the initial Tweet, a series of conversation starters and video clips were threaded underneath, inviting fans to relive their favorite wig and outfit reveals from previous seasons.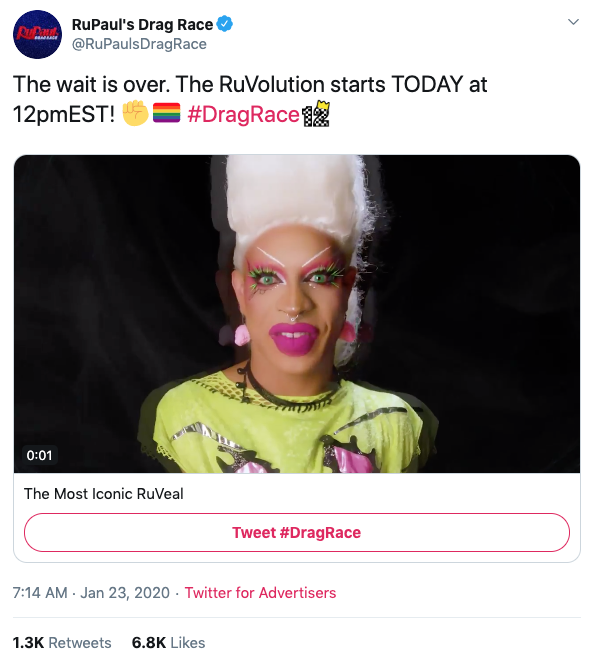 To reach its 1 million-strong Twitter audience ahead of the big RuVeal, VH1 worked together with Twitter on a Set-to-Remind campaign. Ensuring the announcement would be a surprise, the Tweet launched on January 23, just two hours ahead of going live, with the Set-to-Remind feature appearing just an hour before the live stream, creating a flurry of conversation online. Any fans who set a reminder were sent a notification when the RuVeal began later that day. This solution built anticipation, maximizing views and allowing excited fans around the world to have a front-row seat at the runway.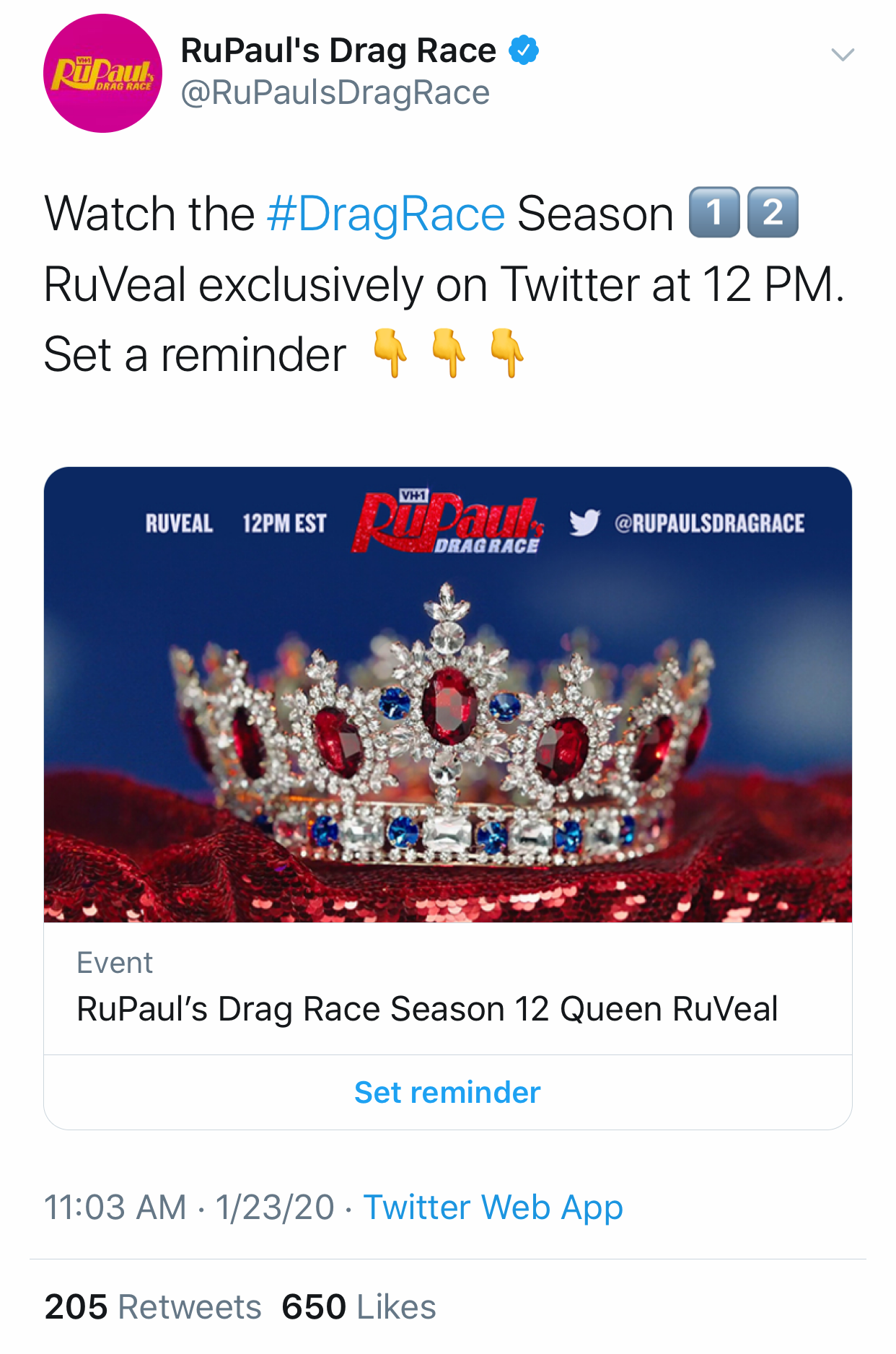 In the next step of their strategy, the team Tweeted a series of video clips featuring glimpses of the queens getting ready backstage. Teasing fans like a fresh wig, the videos created a volume of reactions within the #DragRace community. Cutting and sharing short clips from a main broadcast is a smart way to create bonus assets that can be used throughout a launch campaign. VH1 gave fans on Twitter a sneak peek at one of the 13 queens 15 minutes ahead of the broadcast of the full RuVeal. The short video of Jan heightened excitement, driving conversation and resulting in one of the highest performing Tweets of the campaign. "We pay close attention to what 'Drag Race' fans are talking about during each season, especially across Twitter," says Brittany Travis, senior director of social media at ViacomCBS. Building this teaser content into its promotional strategy allowed VH1 to ensure the conversation and speculation kept flowing. Event experience + custom emoji
The big RuVeal took place at 12pm EST, with a 14-minute broadcast/live stream showing each queen strutting her stuff, runway style. To create an experience for fans to gather to discuss the reveal as a fandom, VH1 and Twitter worked on a dedicated event experience. This created a hub for all things "Drag Race," including comments from judges and former contestants, and featuring content from the new queens themselves, once the broadcast/live stream finished. Throughout the day fans were also able to show their support by using a custom emoji that was activated by using the #DragRace hashtag.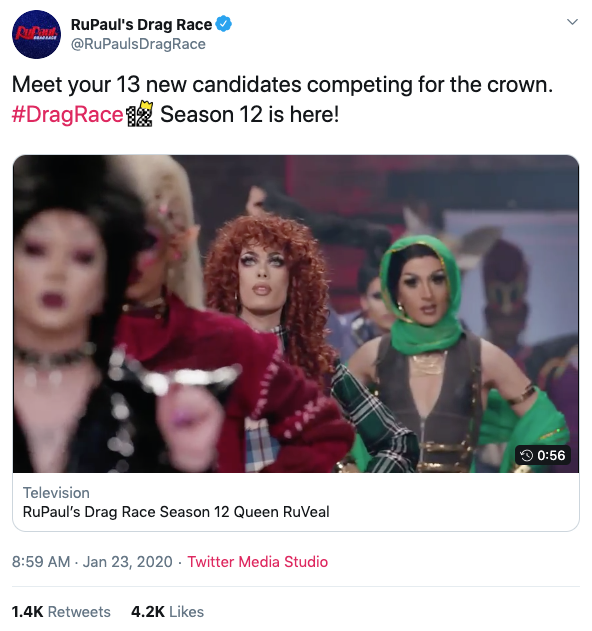 Once the broadcast was over, VH1 kept the conversation going with a thread showcasing each queen's RuVeal look. Tagging contestants in each photo gave fans an easy way to assess and follow their favorite new queens, and the thread itself ensured the conversation surrounding the cast remained in one place. For Hissey, VH1's strategy is to "lean into what's trending, and the platform allows us to refine our social voice and test out new tactics that have application across social overall." Views of the season 12 RuVeal broadcast total 2.2 million and counting, building on previous season announcements to become the highest performing cast announcement to date. Conversation around the RuVeal increased significantly compared to 2019, with the #DragRace hashtag creating lively discussion between fans, and generating the second most popular worldwide trend that day. As for what fans can expect from the season itself, Travis says viewers are in for a treat: "We'll be pulling out all the stops on Twitter to serve the fans all of the charisma, uniqueness, nerve, and talent to come. We can't give away too much, so fans will have to follow @RuPaulsDragRace closely to see what surprises we have in store."