Update
Be the first to try Ticketed Spaces and Super Follows

Twitter is where people go to have real conversations about what's happening. It's a place where people can express themselves authentically and share their unfiltered thoughts in the moment. We're working on ways for people driving those conversations to earn money from audience support and engage their followers in a new way.
Starting today, you can apply to be one of the first to try Ticketed Spaces and Super Follows with your audience.
Ticketed Spaces helps you earn money from exclusive live audio experiences in Twitter Spaces.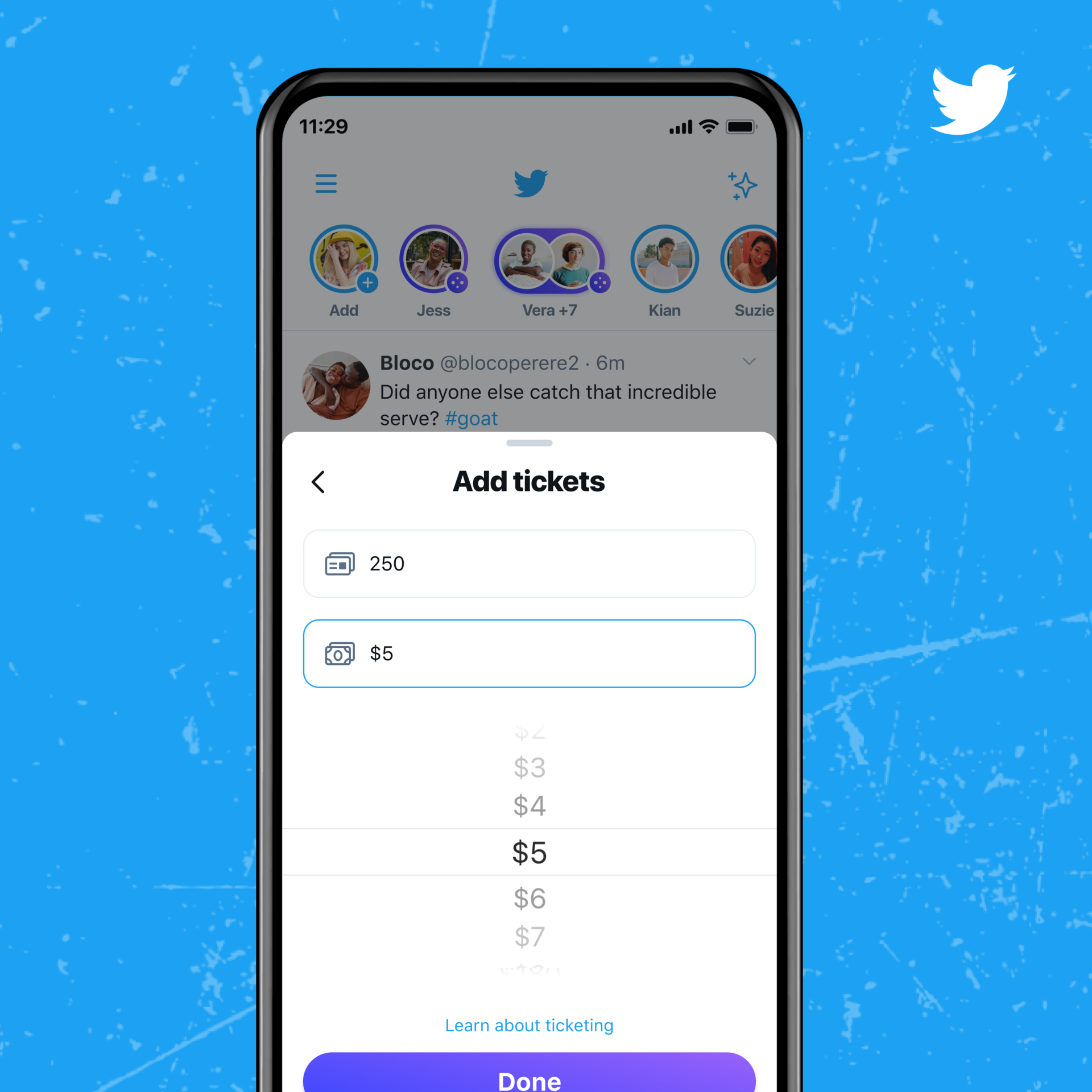 With Ticketed Spaces, you can:
Monetize your audience 
Ticketed Spaces helps you create unique and exclusive live audio experiences in Twitter Spaces, ones your audience is willing to pay for. With Ticketed Spaces, you have flexibility in setting the ticket price, which can be as low as $1 and as high as $999.
Host a more intimate conversation
You now have the ability to set the size of your Ticketed Space, inviting 100 people, or just 5! Either way, you can now create deeper bonds with your followers in an intimate setting.
Easily promote your Spaces
You can now remind your attendees that your Space is happening with push and in-app notifications sent directly to their devices and share your Space details directly to your Home Timeline.
Learn more about Ticketed Spaces and how to apply.
Super Follows can help you earn monthly revenue by offering an extra level of content and interaction as a monthly subscription.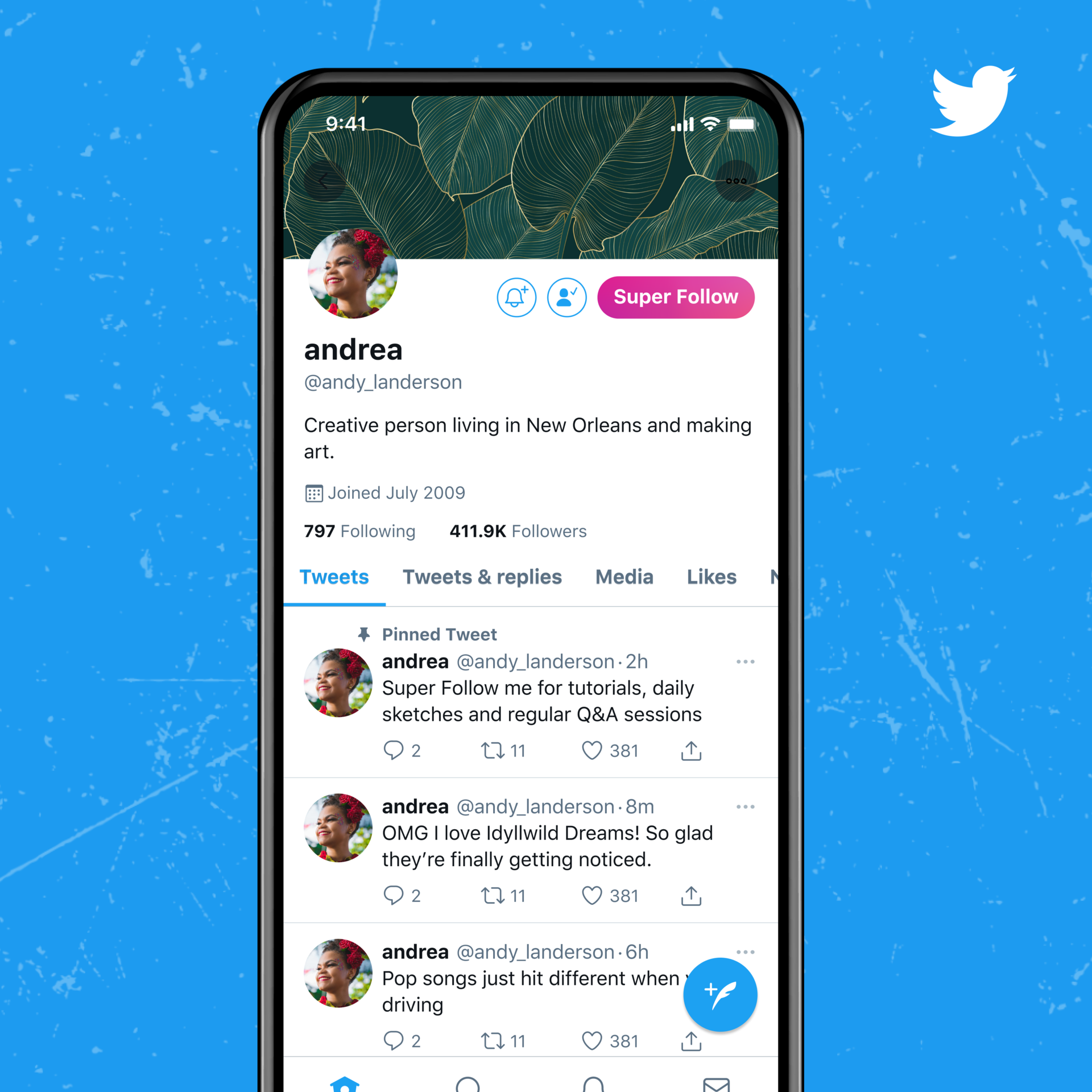 With Super Follows, you can:
Earn monthly revenue
Super Follows gives you a direct relationship with your most engaged followers that can generate monthly revenue. 
Take your relationship to the next level 
Get even closer to your biggest supporters by offering bonus content and interaction.
Customize what you offer and the monthly price
Get creative with benefits your audience will love at a price they can afford. You can customize what you offer and choose from price points of $2.99, $4.99 or $9.99 per month.
Learn more about Super Follows and how to apply.
We want to help make Twitter not just a fun place to engage your audience, but a place where you can earn money driving great conversations—whether you're just starting out or have already built a following.
You can earn up to 97% of the revenue from Spaces ticket purchases and Super Follows subscriptions.* Twitter won't take more than a 3% share until you exceed $50,000 in lifetime earnings on both products. After this point, Twitter's share increases to up to 20% of future earnings. 

Your ability to earn revenue is subject to Twitter's Ticketed Spaces Creator Terms and Super Follows Creator Terms, as applicable.
*after platform fees on in-app purchases, up to $50,000 in lifetime earnings.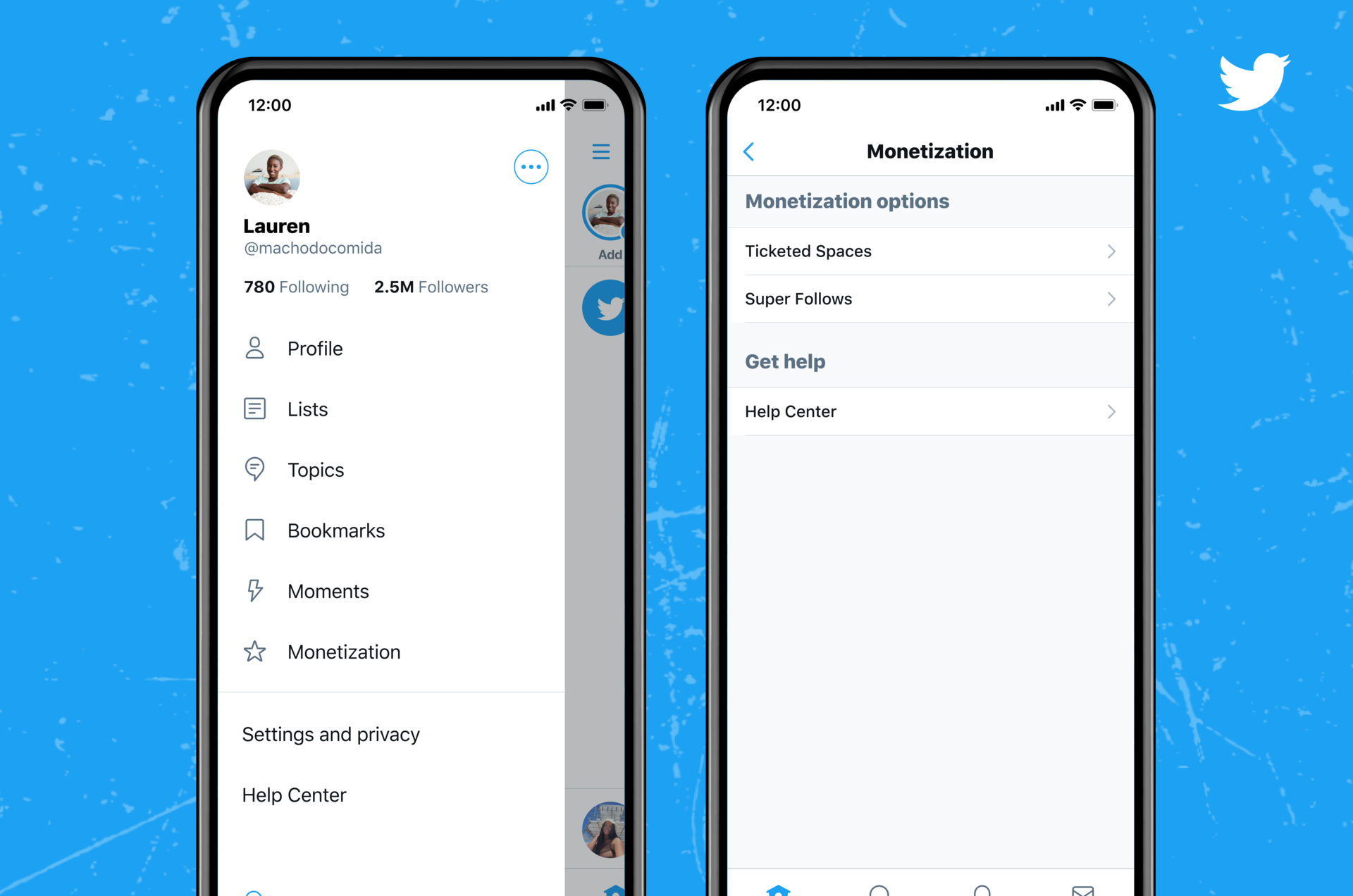 We're looking for a small group of people to be the first to try Ticketed Spaces and Super Follows with their audiences and share feedback. Help us test and improve these experiences before they launch more broadly in the coming months. 
You're welcome to apply for both Ticketed Spaces (iOS and Android) and Super Follows (iOS only). Applications to try these products are separate and are available on mobile at this time. For now, we're opening applications only to people in the U.S. 
To apply to be part of the test groups, open Twitter and navigate to the sidebar, then tap Monetization to learn more and see if you're eligible.
Please note: We're pausing the Ticketed Spaces test indefinitely to focus on improving and bringing new features to the core Spaces experience.