Update
Twitter Spaces for professionals are happening
Twitter is where live conversations happen. Today, we're taking it a step further by bringing Twitter Spaces, aka live audio conversations, to everyone on Twitter. We've been experimenting with Spaces over the last few months, and we're excited to bring it to a broader audience today, available on iOS and Android.
Here are some features you'll find in Spaces:
Up to 11 speakers at any time, with no cap on listeners
Native captioning + emoji reactions
Discoverability via the top of your followers' timelines
Ability to add personalized descriptions and share Tweets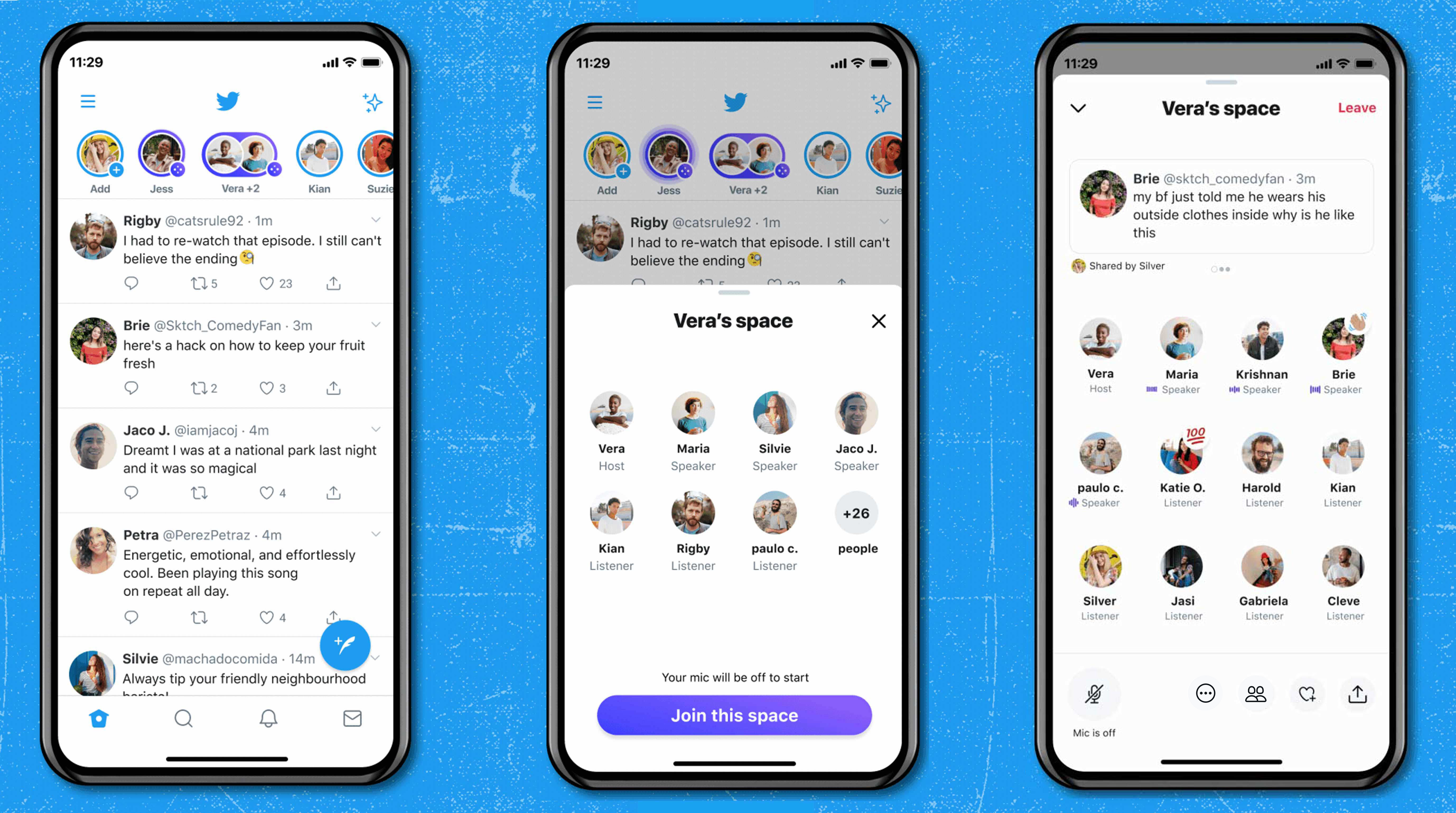 Want to talk about your latest movie or album release? Spaces is the place for that. Or maybe you want to chat to your fans on a personal level? You can do that too. 
Hosting your own Space is a great way to connect with your audience on a different level, and we're excited to see how professionals on Twitter use Spaces in creative ways, so we've broken down some of our favorite tips and tricks to get you started.
Whether it's through Direct Messages or on the timeline, you can inform your fans and followers that you're hosting a Space with a customized Twitter Space Card. Tap on the share icon in your Space to make a card or share the link in a Tweet. Once your Space has started, followers will also be able to find it via the Fleets bar at the top of their timeline — a purple ring around your profile photo indicates a live Space — ensuring your conversation is highly visible.
Share a Tweet, it'll last longer
Guide the conversation around your latest campaign or release by sharing relevant Tweets into your Space. Do this by navigating to your timeline, identifying your Tweet, and pressing the share icon. Anyone who can speak in a Space can share a Tweet, and speakers can include any Tweet, not just their own. 
Your Space, your rules. As a host, you decide who can speak and who can be in your Space. Consider teaming up with your colleague or co-star to speak about your work, or invite peers to discuss the latest trends in your industry. Listeners can request speaker access, so don't be afraid to pass the mic and hear directly from your audience. 
This is just the beginning – we're iterating on Spaces and listening to your feedback. In the future, you can expect to see the ability to schedule a Space, enhanced discoverability via a dedicated Spaces tab, plus co-hosting, and making it even easier to create a Space with your team, peers, or co-stars. 
Have questions or feedback about the product? Tweet @TwitterSpaces