Earn more revenue by providing an ad-free reading experience to Twitter's high-value audiences.
Our goal is that publishers will make, on average, +50% more revenue per person with Twitter Blue than from advertising alone.
Featuring more than 350 sites from popular US-based publishers, including The Washington Post, L.A. Times, Reuters, and The Atlantic.
People on Twitter are some of the most passionate news readers in the world. Ad-free Articles is designed to improve engagement on your articles with Twitter Blue's high-value, news-obsessed audience. It can help you grow your reader base by connecting your work with the people who engage with news on Twitter.
For Twitter Blue subscribers, Ad-free Articles provides a faster loading, cleaner reading experience. Publishers own the content experience from top to bottom. Paywall access is not included.
Twitter aims to pay publishers an average of 50% more per person for a Twitter Blue subscriber's ad-free visit to their site than if they'd shown ads. Since launching in November 2021, Twitter Blue has seen consistent user growth and the model has shown, on average, strong ARPU results for publishers. We are working to expand access to international publishers. Interested in learning more about how to join Twitter Blue Publishers?
Two new ways to read on Twitter
Now it's easier than ever for people to discover relevant news and support the journalism that matters most to them.
With Ad-free Articles, Twitter Blue subscribers enjoy a fast-loading, ad-free reading experience when they visit the sites of any Twitter Blue Publisher from Twitter. 
Subscribers can also see what articles their network is sharing. Top Articles shows the most-shared articles from people you follow—and who they follow, too—so you can easily find the content you want to read.
*Availability and functionality of the Ad-free Articles Experience may vary based on the country subscribers are located in. Some publishers may not be included in Top Articles.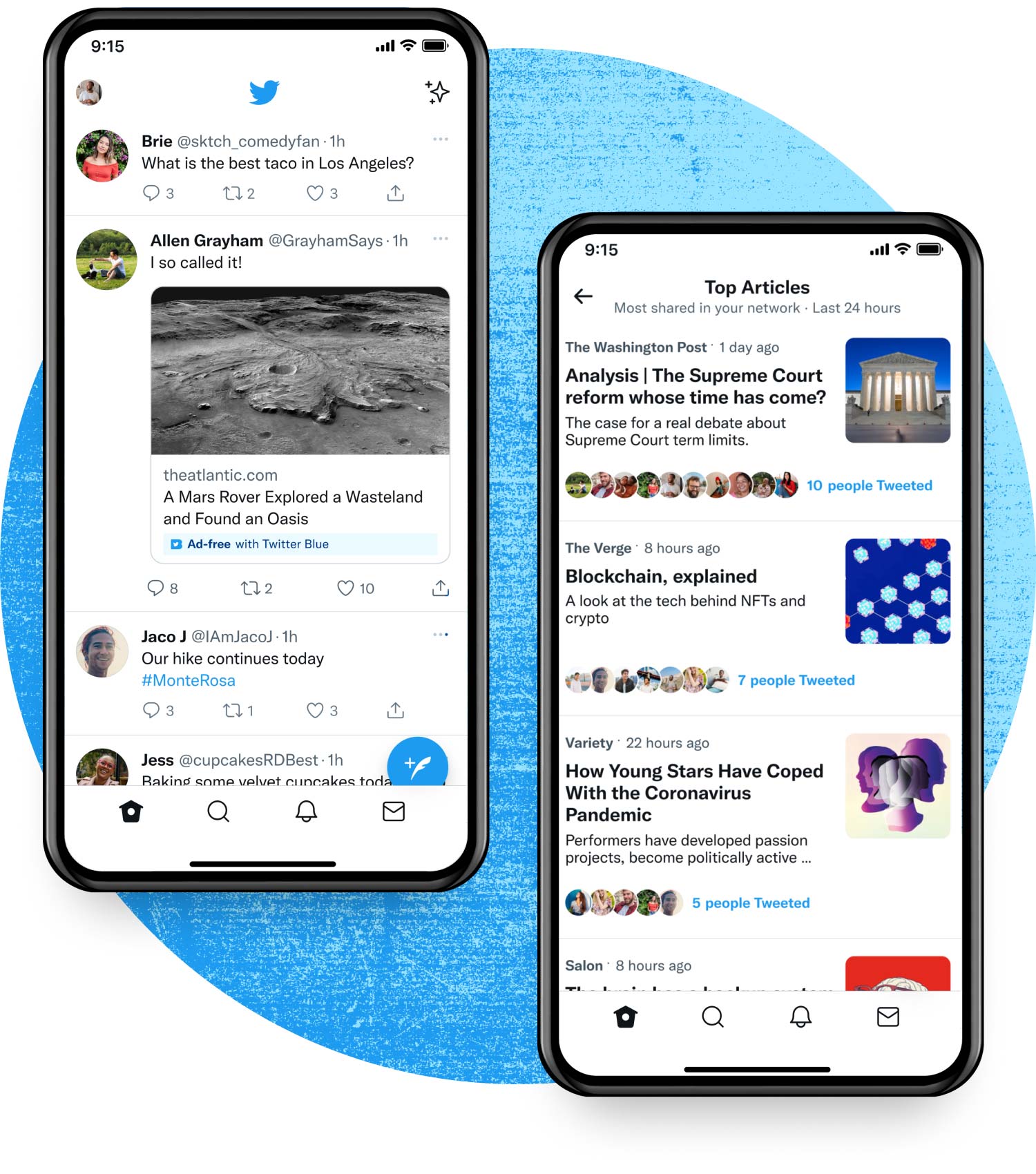 Get the latest inspiration and resources from Twitter Create right to your inbox.